Julia Ann White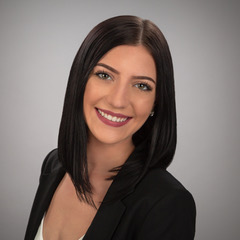 I am a licensed realtor in both Connecticut and Florida. Currently, I am Connecticut based and I am a member of the New Haven / Middlesex Association of Realtors and the National Association of REALTORS®. My goal is to simplify the process buying and selling, using up-to-date and innovative networks, saving your time, money, and energy. The real estate journey is usually a once-or-twice-a-life activity for many, so it's easy to feel overwhelmed when entering this unknown ground. Some parts of the process have recently become more accessible through technology, but when every buyer has access to the same resources, it's tough to make your listing stand out in a crowd. That's why working with a trustworthy real estate professional is a key to your success and I would love to help you navigate through this process.
Dear buyers,
The process can be complex and stressful—especially if you are a first-time buyer. Having a real estate pro by your side can make all the difference. Being a buyers agent is a very important role. As your buyers agent, it is my job to ensure I am negotiating on your behalf and making sure you are being represented. I will guide you through the home-buying transaction and be at your disposal for any questions or concerns. Along with finding you suitable properties and giving tours, I also am able to refer you to reliable mortgage brokers, real estate attorneys, home inspectors, movers, and other real estate professionals. This can also help expedite each step of the process and move you to a successful real estate sale all the faster. My goal is to take some of the stress off of your plate and guide you smoothly to closing, offering productive solutions to any issues that may arise. One more great thing about having a realtor represent you in the purchasing process, is that home buyers don't need to worry about the expense of hiring a buyer's agent. Why? Because the seller pays the commission for both the seller's and buyer's agents.
Dear sellers,
One of the reasons my clients choose me to sell their home is because of my excellent track record of selling. My marketing plan, effective pricing strategy, and local knowledge of the marketplace allows me to exceed client's expectations. As technology advances, it is important to use the most innovative strategies to get your home sold. It can be tough to make your listing stand out in a crowd when every buyer has the same resources on the internet. It is more important now than ever to select an agent who is able to showcase your home using an online presence to insure it sells for top dollar. This is the reason I offer complimentary staging to all of my sellers. Most home searches nowadays begin online, and you do not want yours to get overlooked. It is important to have the best photography, lighting, and online presence to ensure your home is the most desirable in the marketplace. My staging services can vary depending on each client's individual needs. I am happy to cater to each client and make sure they are comfortable and all of their expectations are met or exceeded. This can be anything from staging a vacant home to give potential buyers the opportunity to envision the layout, or a simple rearrangement of the furniture. I love share my knowledge and getting to showcase your home in the best way possible.
Contact info:
Cell: (860) 338-0729
Email: juliawhiterealtor@gmail.com